HOW TO FIND THE PERFECT KEYNOTE SPEAKER
Looking for the perfect keynote speaker who can captivate your audience and leave a lasting impact? Look no further! We can help you find the perfect immersive keynote speaker for your event, ensuring a memorable experience for all attendees.
Understanding the Importance of a Keynote Speaker
If you're organizing an event, you already know that there are many factors that contribute to its overall success. One of the most significant aspects of any event is the keynote speaker. A perfect keynote speaker can captivate the audience and inspire them. They have the ability to set the tone for the entire event through their words and actions. They're usually tasked with delivering an address that's engaging, inspirational, and memorable. The right keynote speaker will provide value to your event by leaving your audience with a positive impression that lasts long after the event has ended.
The Role of a Keynote Speaker in an Event
A keynote speaker has many different roles to perform at an event. They're expected to provide context and insight into the overall theme of the event. They're also responsible for inspiring and motivating the audience, getting them excited about the event, and engaging them in a meaningful way. Overall, the main goal of the keynote speaker is to make your event a success.
One of the key roles of a keynote speaker is to provide a unique perspective on the event's theme. By sharing their own experiences and insights, they can help attendees understand complex topics in a new and exciting way. 
Another important role of a keynote speaker is to build excitement and anticipation for the event. By delivering a high-energy and inspiring speech, they can motivate attendees to fully engage with the event and participate in all of its activities. 
A good keynote speaker will pick one or a few key points and focus on them when sharing lessons learned. Additionally, they will keep their presentation exciting and interactive by using a range of techniques to keep their audience engaged.
Sylvie di Giusto brings her extensive 20-year corporate experience as well as her expertise in emotional intelligence and perceptions, providing a fresh and thought-provoking perspective on professional success. Through her immersive keynotes, Sylvie connects with the audience on a personal level, delivering impactful content that resonates long after the event.
---
How a Keynote Speaker Can Influence Your Event's Success
A great keynote speaker can have a significant impact on the success of your event. One of the ways that a keynote speaker can influence the success of your event is by helping to build a sense of community among attendees. By delivering a message that resonates with the audience, they can create a shared experience that brings people together and fosters a sense of camaraderie. 
Another way that a keynote speaker can influence the success of your event is by providing valuable insights and advice that attendees can instantly use in their own personal and professional lives. By sharing their own experiences and lessons learned, they can provide attendees with practical tips and strategies for success. 
Sylvie di Giusto captivates audiences with her dynamic stage presence, interactive elements, and compelling storytelling. Her ability to inspire and engage the audience through immersive experiences and cutting-edge technology ensures that attendees are excited and fully invested in the event from start to finish.
---
Identifying the Right Keynote Speaker for Your Event
Organizing an event can be a daunting task. From booking the perfect venue to coordinating with vendors, there are countless details to consider. However, one of the most critical aspects of any event is the keynote speaker. A great keynote speaker can set the tone for the entire event, inspire attendees, and provide valuable insights.
Now that you understand the importance of a great keynote speaker, it's time to identify the right one for your event. Here are some key tips to follow:
Assessing Your Event's Needs and Goals
The first step in finding the right keynote speaker is to assess your event's needs and goals. What do you want your attendees to take away from the event? Are you hoping to provide them with practical insights or inspire them with a motivational message? What issues are you hoping to address? What message do you want to convey? By answering these questions, you'll have a better understanding of the type of keynote speaker you need.
For example, if you're organizing a technology conference, you may want to find a keynote speaker who can provide attendees with insights into the latest trends and innovations in the industry. On the other hand, if you're organizing a leadership summit, you may want to find a keynote speaker who can inspire attendees with their personal success story.
Researching Potential Keynote Speakers
Once you know what you're looking for in a keynote speaker, it's time to start researching potential candidates. You can start by looking online for speakers who specialize in your event's topic or industry. Many speakers have websites or profiles on speaker bureaus that provide information on their background, expertise, and speaking style.
Additionally, you can ask for recommendations from colleagues, industry experts, or past attendees of your event. They may be able to suggest speakers who have impressed them in the past or who have a reputation for delivering engaging and informative presentations.
Evaluating Speaker's Expertise and Presentation Style
When you've found potential speakers, evaluate their expertise and presentation style. Look for speakers who have a relevant background, a deep understanding of your event's topic, and who can engage audiences effectively. Additionally, review samples of their work to assess how they present their ideas and how they connect with their audiences.
Some speakers may have videos of their past presentations available online, while others may be willing to provide samples of their work upon request. Watching these samples can give you a better sense of the speaker's style, tone, and ability to connect with audiences.
Another factor to consider is the speaker's availability and willingness to work with you to tailor their presentation to your event's needs. A great speaker will be able to adapt their message to fit your audience and your event's goals.
By following these tips, you'll be able to identify the right keynote speaker for your event and ensure that your attendees leave feeling inspired, informed, and motivated.
Sylvie di Giusto takes a focused and strategic approach to her keynotes, delivering powerful messages that revolve around the impact of emotional intelligence on professional success. She combines captivating narratives, practical takeaways, and interactive elements to create an engaging and unforgettable experience. With her expertise in utilizing 3D imaging technology and illusions, Sylvie ensures that the audience remains fully engaged throughout her keynote, making the event a resounding success.
---
The Process of Hiring a Keynote Speaker
Organizing an event is always a challenging task, and hiring a keynote speaker is no exception. A keynote speaker can make or break an event, so it's essential to choose the right one. 
Research and Shortlisting
The first step in hiring a keynote speaker is to research and shortlist potential candidates. Look for speakers who have experience in your industry or who have expertise in a particular topic that aligns with your event's theme. You can start by looking at speaker bureaus, industry associations, or asking for recommendations from colleagues.
Once you have a list of potential speakers, research their background, experience, and reputation. Check out their website, social media profiles, and videos of their previous presentations. This will help you determine if they are a good fit for your event.
Contacting and Negotiating with Potential Speakers
After shortlisting potential speakers, it's time to contact them and provide them with details of your event. Be clear about your expectations, the theme of the event, and the audience demographics. Discuss the details of their presentation and negotiate on fees and other logistical matters. Ensure that all agreements are clearly documented in writing. This will help ensure that everything runs smoothly and that the speaker is well-prepared for the event.
Finalizing the Contract and Preparing for the Event
With the keynote speaker hired, it's time to finalize the contract and prepare for the event. Ensure that the speaker has all the details they need to deliver their presentation. This includes the event schedule, audience size, and any specific requirements they may have. Additionally, provide them with any equipment or support they need to deliver their address effectively. This could include microphones, projectors, or other audiovisual equipment. Make sure that the speaker has a chance to test it before the event. Hence, it's a good idea to schedule a rehearsal before the event to ensure that everything runs smoothly.
Nothing is more important to Sylvie di Giusto than making your experience and the experience of your audience extraordinary. She understands the significance of your event and the impact a keynote speaker can have. That's why she has partnered with cmi, a globally renowned speaking management company with over 30 years of experience, to ensure that every aspect of your event exceeds expectations. With their attention to detail and unwavering commitment to excellence, cmi will work closely with you to not only find the perfect keynote speaker in Sylvie di Giusto but also create an experience that goes beyond what is typically expected.
---
Ensuring a Great Keynote Experience
Now that you've secured the right keynote speaker, it's time to ensure an outstanding experience for your attendees. 
Collaborating with Your Speaker for a Customized Presentation
A great keynote address should feel personal and relevant to the audience. To achieve this goal, collaborate with your speaker to ensure that their presentation is customized to your event's specific needs. Provide them with any background information they need, and discuss how they can tailor their message to resonate with your audience.
Incorporating Interactive Elements into the Keynote Speech
To keep your audience engaged, consider incorporating interactive elements into the keynote speech. This can include elements such as Q&A sessions, crowd participation activities, or interactive presentation tools. These elements will help your audience stay engaged throughout the event and help create a more memorable experience.
Exceptional On Stage, Effortless behind the Scens
The perfect keynote speaker is not only exceptional on stage, captivating the audience with their expertise and charisma, but they are also easy to work with behind the scenes. This aspect is crucial in ensuring a smooth and successful event. When the speaker is approachable, collaborative, and responsive, it sets the foundation for a seamless partnership with event planners, meeting professionals, and bureau partners. Clear communication, flexibility, and a strong work ethic are essential qualities that allow for effective collaboration and result in a harmonious event planning process.
Sylvie di Giusto embodies these qualities. With more than a decade of experience in hiring keynote speakers herself, she understands the responsibility and diligence required in finding the ideal and perfect keynote speaker. As a result, she approaches each engagement with a deep understanding of the event planner's perspective and the importance of a seamless partnership. Sylvie's collaborative nature, responsiveness, and commitment to excellence make her not only a perfect keynote speaker but also a pleasure to work with.
How to find the perfect Keynote Speaker [ Free eBook]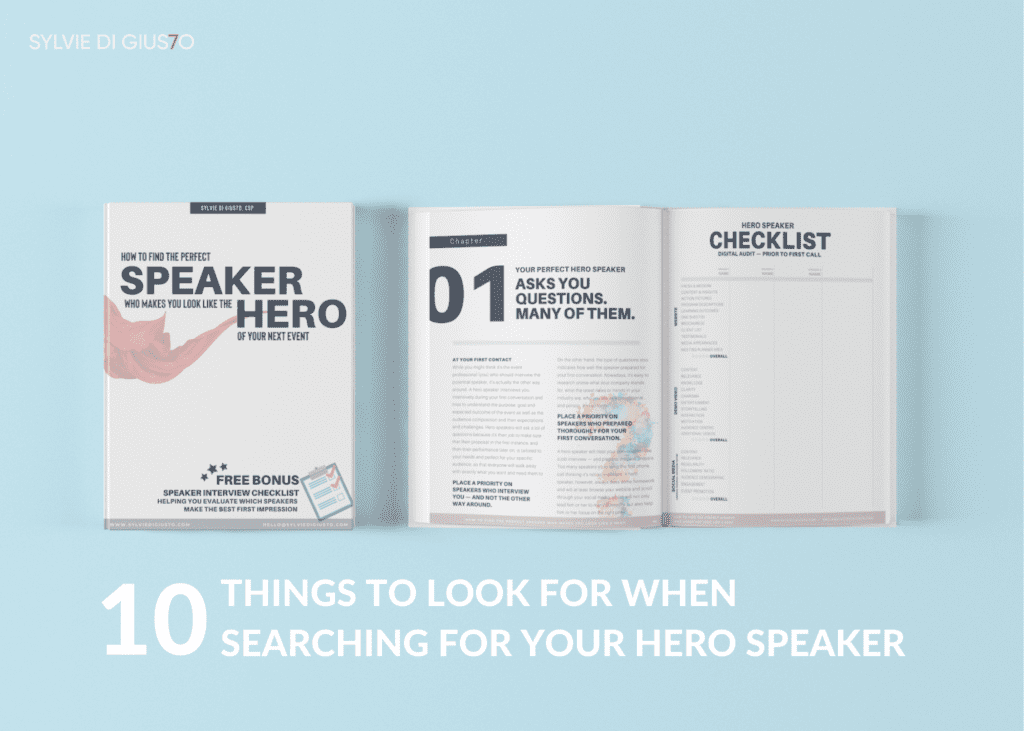 PS: Interested in more content like this? Make sure to follow me on Instagram. It's where I visualize and publish my thoughts daily. I hope to see you there.